Maintaining compliance, reducing administrative expenses, and strengthening the distribution network are all issues that the healthcare business worldwide has been fighting to overcome. PWC found that 86% of healthcare industry executives surveyed desire to make supply chain transparency a top priority as they face post-Covid era problems.
Deloitte's 2022 Global Health Care Outlook reaches the same conclusion: digital transformation is the way to a more efficient healthcare system. Digital transformation includes automating contract lifecycle management.
With the right healthcare contract management software, agreements can be standardized and managed efficiently, increasing visibility into the supply chain. Let's take a look at how the efficiencies and conveniences offered by medical document management software can help you out.
Problematic Aspects of Medical Contract Management
Sticking with a conventional or somewhat antiquated contract management system puts your business at risk of insufficient storage space, the loss of important papers, the misunderstanding of standards, and numerous mechanical or factual errors. Let's investigate these matters further:
It's possible that every department has its documentation and storage system for medical contracts and that these systems could be spread out throughout several different storage or actual locations. Because of this, it will be difficult and time-consuming for the departments to interact with one another in the appropriate manner, which will result in a rise in administrative costs.
If there is not a standard format or template available, the drafting of a legally binding contract might take a significant amount of time and require a significant amount of money. In addition to that, you can be obliged to pay a hefty fee for each appointment with an attorney.
Because each provider uses its documentation system and terminology, conventional document management is hard to standardize. The process of drafting legal documents will be more complicated and less exact in the absence of standardized legal jargon.
When working with data that is stored in a number of different locations as well as cloud-based services, it won't be easy to find information promptly.
A short amount of time for turnaround
When manual contract administration tasks are being performed, obtaining authorization from the counterparty is a procedure that takes a significant amount of time because both parties are required to analyze each term and condition thoroughly. In addition, you will conduct a legal review and make amendments to the contracts, which will cause the turnaround time to be extended.
Challenges with compliance
Regulatory standards and legal requirements morph over time. As a consequence of this, you run the risk of accidentally using dated document templates in a manual system, which puts the company in jeopardy.
Principal Advantages of Software for Contract Lifecycle Management
Suitable software for managing the contract lifecycle in the healthcare industry, also known as CLM, can transform how you write and oversee medical agreements. The list that follows provides a concise summary of some of the most important advantages that may be gained by utilizing software for document management in the healthcare industry. Let's have a peek.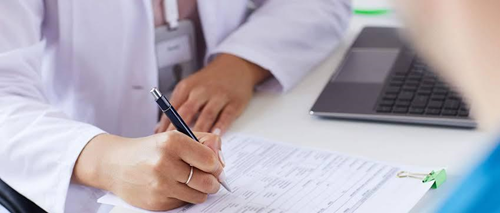 Source: https://images.app.goo.gl/tkeHCBBXX7VhtLiE9
Spending less money. When it comes to disbursal expenses, you will see a reduction in both administrative costs and the number of labor hours required, thanks to the hospital CLM software.
Lowering time. You will directly profit from the time savings, as your workforce will now be able to concentrate more on things that generate value, while the software will handle a more significant portion of the work that occurs behind the scenes.
Minimizing risk. As a result of the fact that the templates will contain all essential components of a legal contract, there will be fewer gaps. You will also enhance your ability to obtain information from multiple sources.
Enhancing the working relationship. Because the process will now be standardized, members of the team from various departments and branches will find it simpler to work together, thanks to the availability of the information online.
Ensuring continued conformity. Because you will have all of the rules compiled in one platform that is linked to the necessary regions, it will be much simpler for you to comply with all of the regulatory standards that are in place.
Securing data. A Contract Lifecycle Management (CLM) service may provide peace of mind by ensuring that your contracts are kept in a safe location and using the most recent cloud security procedures.
Faster bargaining. Because of this automation, the processing of contracts will be significantly accelerated, which will make the partnership much easier. The process of drafting papers and making modifications that will be acceptable to both parties is simplified by the program.
Accessing easily. Your healthcare business will appear more transparent to all of its stakeholders and suppliers if its data is well-organized and simple to access.
Conclusion
Software for managing the whole lifespan of a healthcare contract can help you unify your legal language and collect crucial data. However, you must exercise caution when selecting a vendor, paying close attention to factors like security and compatibility with your existing applications.